Our topic for the Autumn term is All About Me. In this topic we will be covering:
Our bodies, including looking at bones and muscles.
Similarities and differences between humans and other animals.
Growing and changing.
Healthy eating and sorting food into the different food groups.
Exercise and it's effect on our bodies.
The five senses.
In Maths we will be covering:
Number recognition and counting to 20 and beyond.
Counting in multiples of 10.
Data handling: tally charts, pictograms and block graphs.
Addition and subtraction within 20 and beyond.
2 D and 3 D shape: naming and describing properties.
Measuring length, weight and capacity.
Handling money: coin recognition and paying for amounts.
Number bonds to 10 and beyond.
Doubling and halving.
In Literacy we will be covering:
Stories with familiar settings.
Wriitng their own autobiographies.
Features of information texts.
Traditional tales.
Writing recouts of familair stories.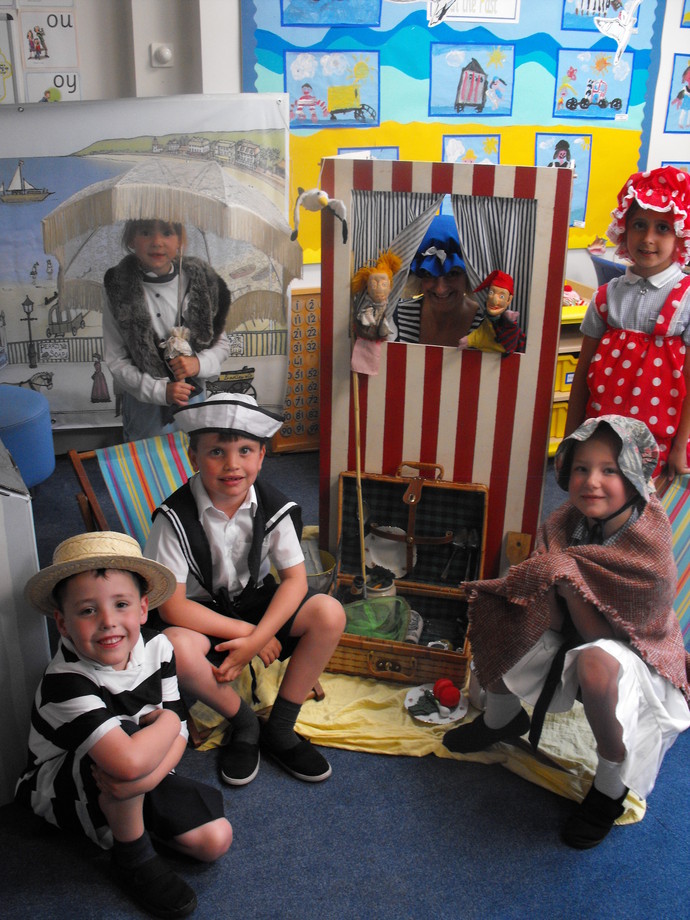 Class Two had a wonderful day experiencing seaside holidays from the past.
Reverend Jean showed us around the church and told us about all the special things inside the church.
Mrs McGrath will be teaching on Mondays, Tuesdays and Wednesday mornings and Mrs Rhodes will be teaching on Wednesday afternoons, Thursdays and Fridays.
Our teaching assistants are: Mrs Smith, Mrs Lindley and Mrs Howe. They will work with the children at different times.
Please try to read with your child for 10 minutes every night to develop important early reading skills.
Reading books will be changed once each week, on Mondays for Year 2 and Tuesdays for Year 1. Please write a brief comment in your child's reading record book to let us know that he/she has read at home. If there is no comment we cannot change the books in case they haven't yet been read.
PE days are Wednesdays and Thursdays. Please send your child with both an indoor and outdoor PE kit for the summer term.
.