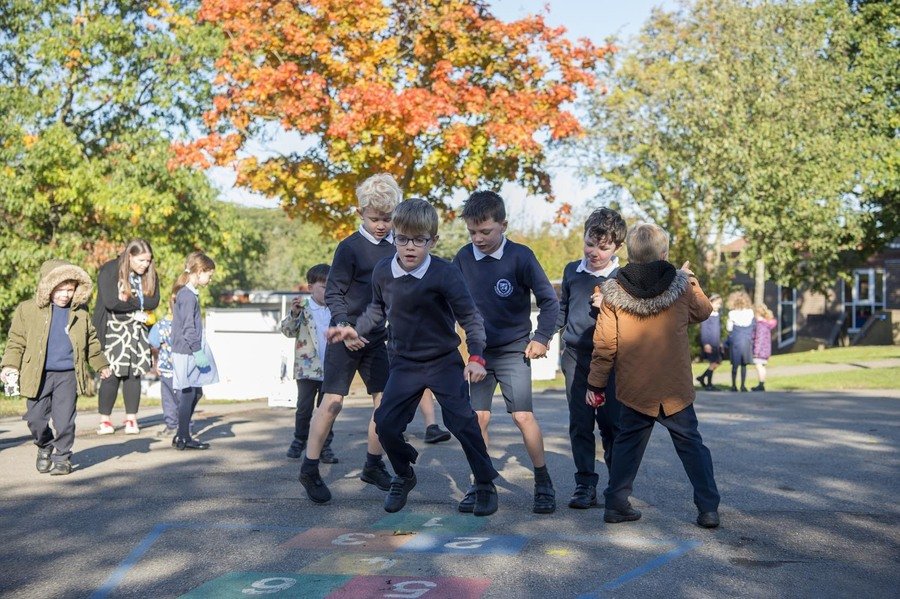 OUR CAWTHORNE CULTURE – A POSITIVE CLIMATE FOR ALL
Our school has adopted the parable 'The Good Samaritan' as it demonstrates our Christian Values in action and the positive behaviour we expect of our children and school community – loving ourselves and loving our neighbours. Positive Behaviour is a necessary part of the provisions we make at Cawthorne in order to maintain a calm, orderly working environment based on mutual respect and fairness. We aim for all members of the school community to consistently demonstrate positive behaviours so that everyone feels safe and secure during their learning journey at Cawthorne.

Recognising our historic foundation, we will preserve and develop our religious character in accordance with the principles of the Church at parish and diocesan level. We aim to serve our community by providing an education of the highest quality within the context of Christian belief and practice. We encourage an understanding of the meaning and significance of faith and promote Christian values through the experience we offer all our children. Our school is rooted in Christian Love and allows everyone to flourish in life so that they reach their full potential.
OUR BEHAVIOUR AIMS
To secure an exemplary standard of behaviour for all of our children to demonstrate consistently
To promote self-discipline and a proper regard for the rules of law
To prevent all forms of bullying (including cyber; prejudice based and discrimination); physical threats; abuse and intimidation
To create a positive ethos and school environment where we all work together as a caring Christian community
To maintain a calm, happy, safe and disruption free environment within school in order to sustain our high standard of education for all children
To raise children's self-esteem by promoting respect and fostering responsibility where achievements at all levels are valued
To create a feeling of common purpose, by having a consistent approach to behaviour in school through partnership with children, parents, staff, governors and the local community
To provide clear boundaries for acceptable behaviour and ensure everyone's physical and emotional safety
To provide a clear structure for addressing poor behaviour allowing children to learn from their mistakes and make improvements
To effectively support those children who need help in maintaining our high standards of behaviour expected, making reasonable adjustments if necessary
To provide support to all staff in managing behaviour through effective leadership, policy and practice
OUR CAWTHORNE GOLDEN RULES OF LAW - Maintaining High Standards Of Behaviour
This is the most important Golden Rule for us to follow in our lives. In order to achieve this, we have three important school golden rules of law that everyone in Cawthorne follows. We expect exemplary conduct, behaviour, manners and respect from everyone to ensure that our school is a calm, happy and safe environment. This encompasses everyone in our school: children; staff; parents; Governors and visitors.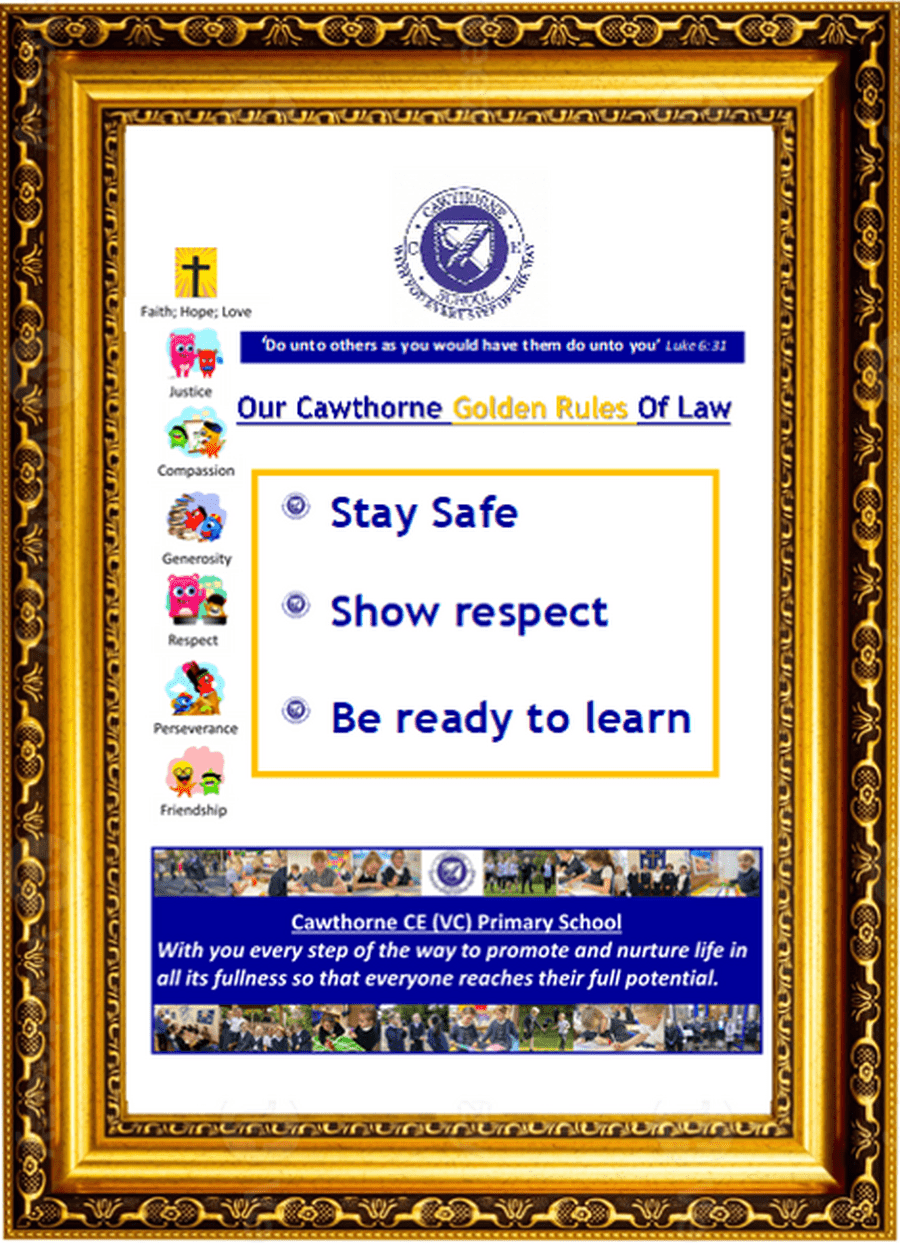 Where a child feels that someone has treated then unfairly or has broken a Cawthorne Golden Rule, we encourage then to approach a member of staff or a trusted adult to share their concerns. Children can also talk to their friends, our pupil Wellbeing Ambassadors or our Behaviour Monitors about any concerns they have. These will be reported to the relevant staff and appropriate action taken immediately.
All Cawthorne children have a voice that is listened to. They are given regular opportunities to provide feedback about their experience of behaviour and provide comments on the school's behaviour culture. Every child is supported to achieve the expected behaviour standards not only by adults but by other children too.
We aim to empower our children to take responsibility, be positive Good Samaritan role models and shine bright for the world to see.
OUR CAWTHORNE ROLES AND RESPONSIBILITIES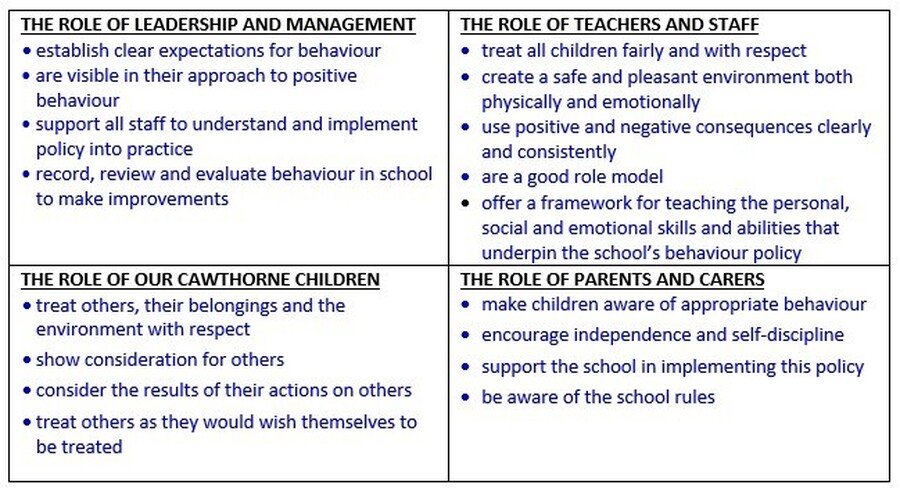 OUR CAWTHORNE POSITIVE REWARDS
At Cawthorne we believe that children should be encouraged to behave well. We use a number of positive rewards to do so:

positive dojos

praise, a smile and a thank you

reward stickers and stamps

Cawthorne Stars Certificates

Cawthorne Values Certificate

additional roles and responsibilities

each class may also implement their own additional rewards as appropriate



OUR CAWTHORNE SANCTIONS
In order to discourage children from behaving negatively, we believe it is important to teach them positive behaviours but also to be aware that there are consequences for inappropriate behaviours. Any sanction is commensurate to the behaviour displayed in line with our behaviour policy. As a school, we operate with the values of forgiveness and reconciliation. We aim to use teach our children about the mistakes they make, look at alternative choices and allow then to atone for their actions. By providing our children with a second chance, we see them learn from their mistakes and make positive changes.
PREVENTING BULLYING AND NEGATIVE BEHAVIOUR _ A PROACTIVE APPROACH
Our response to negative behaviour and bullying will not start at the point at which a child has been sanctioned for behaviour or bullying. We will use a more sophisticated approach in which school staff proactively gather information about issues between children which might provoke conflict and develop strategies to prevent negative behaviour and bullying occurring in the first place. This involves the modelling positive behaviours and talking to children about issues of difference and appropriate behaviours in lessons, Collective Worships, through dedicated events or enrichment projects. It may also require the use of support strategies for children with specific needs to ensure that positive behaviour is consistently displayed in and outside of school.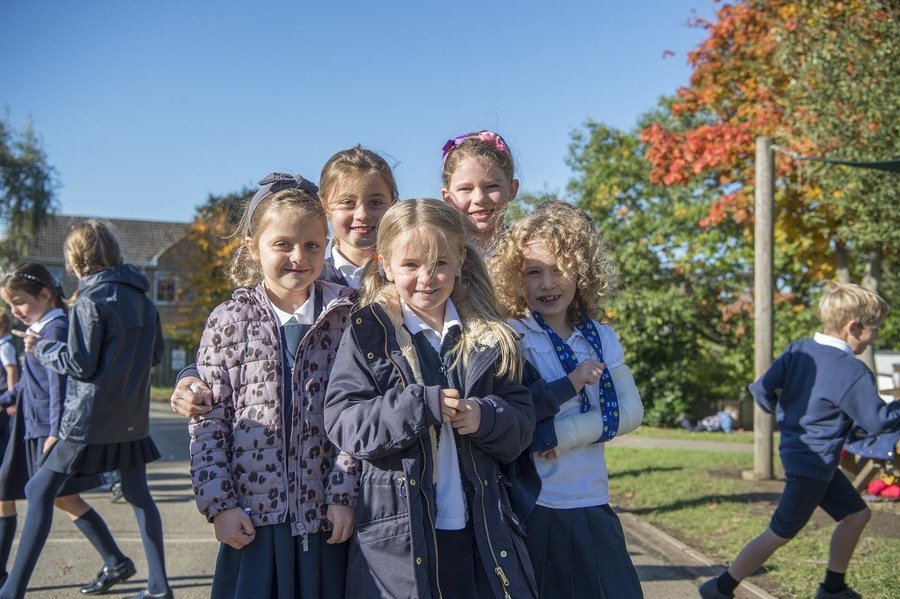 How do we know that our Cawthorne approach is working?
Our children enjoy coming to school

Our attendance rates are high

Our learning environments are calm, purposeful, supportive and steeped in mutual respect

Our children are commended for their positive behaviours inside and outside of school by others

Our children say that other children are kind, caring and 'Good Samaritans'

Children are happy at school and identify that we do not have bullies at Cawthorne

Staff act quickly to resolve any issues, monitor behaviour and secure positive outcomes

There have been no fixed term exclusions or permanent exclusions for several years
Anti Bullying, Anti Discrimination
Everyone at Cawthorne believes that bullying and discrimination does not have a place in our school; our community and our world. We want all our children to feel happy and safe so they can learn, play and have fun in a positive and supportive environment. We want to empower our community so that everyone has the responsibility to reach out, stand up and speak out if we see someone being unkind, someone being bullied or if we are being bullied ourselves.
As part of Anti Bullying Week, our Wellbeing Ambassadors, helped by our children, created our Cawthorne Anti Bullying Pledge and Children's Anti Bullying Policy in order to achieve our aim and be the positive change that we want to see in the world.